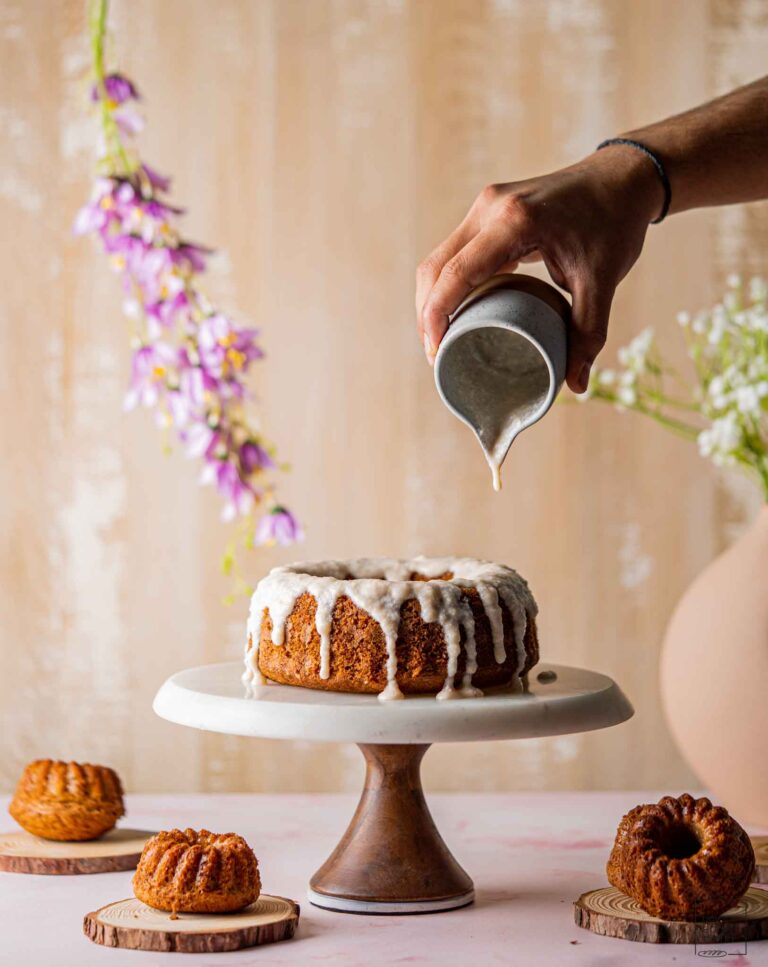 It's January of 2022, and it's pouring sweet strawberries right now. I have always been huge on strawberries and berries in general Whether with yoghurt or cream, it tastes absolute divine. You must be thing "Triple Strawberry Cake" sounds too much but no, I don't want to overpower the flavour of this ingredient, its been used as hints in all three layers of this gorgeous Bundt Cake, perfect for any birthday celebration and a great gift
What is a Bundt Cake ? And the Bundt Pan used. 
It's a cake made in a Bundt pan. A Bundt pan, has a long tube like structure in the middle, giving a decorative shape to the cake. The name Bundt comes from the German word Bund kuchen, Bund stands for tied together and Kuchen means cake. The shape of the Bundt Pan, such that it transfers the heat of the oven evenly. When the same cake is made in a regular circular or rectangular pan, it will either not be cooked in the center or burn on the edges. Bundt pan not only gives your cake a beautiful shape but also allows more of their edges to be in contact with the cake batter.
How will this affect your process?
Bundt cake is usually cooked at a higher temperature than the usual. Usually I try and bake the cakes at 160°C/ 140°C fan to make it softer and fluffier. However for a Bundt cake, it is advisable to cook at 180°C/ 160°C fan so that it doesn't stick to the sides of the tin and creates firmer edges of the cake. Apart from the temperature, Bundt cake require comparatively more quantity of flour and eggs. The same is done to accommodate for a better and cleaner rise. 
Bundt. recipes also uses Cornstarch for your cake to form the desired shape better, develop less to no cracks and to overall hold the cake formidably.  
How Sweet are your Strawberries?
Since this cake uses Strawberries in all of its components, it's essential to understand the star ingredient you are working with. Its time to try out your strawberries cause it would change the ingredient list for you. 
My strawberries were not the sweetest and I had to add 4 tbsp of sifted caster sugar to the puree to reach the desired level of sweetness. You might have to do that too! So please taste your strawberries, it's a game changer. 
Strawberry Puree! How to make?
To make strawberry puree start by washing your strawberries and by cutting out the leaf part on the top. Try and use the reddest strawberries you can find and stay away from the white bits. 
Roughly cut the strawberries and add to a blender, along with 1 tbsp of water. Blend it till it becomes liquid, after which sieve it. Like mentioned above, do check the taste and see if it requires any caster sugar to sweeten it. 
Tips to Bake a Great Cake:
1. Temperature: Use room temperature ingredients, especially the ones you keep in the fridge, like milk, eggs, butter. Room temperature will guarantee better results.
2. Don't Over mix: Avoid using a whisk attachment, use a paddle or spatula again. Over mixing your batter can lead to a less fluffy cake. Mix it only till when it's required.
3. Avoid Opening the Oven too much: Every time you open the oven to check on your cake, you change the temperature of the oven, which can lead to cracks on the cake.
4. Sieve your Dry Ingredients: Try and sieve all your dry ingredients, from flour to coffee powder. It will lead to a cleaner batter and softer cake.
For more tips on how you can perfect your cakes, click here. 

Size of the Pan
This recipe is made using a 09 cup Pan, alternatively you may try and use any other 9 cup pan or 10 cup pan as well. It really doesn't have to be this shape itself. You can make it any desired shape you wish. 

Baker's Cornstarch 
While you be surprised to know, cornstarch being added to a cake is a thing! Now, please don't add it to a normal cake, round, rectangular, loaf etc. However, since Bundt Pans, have so much depth, the cake can be compressed, not leaving a fluffy cake. Cornstarch, helps in making the cake spongier and softer, while ensuring better binding of your Pound Cake! However, it's totally up to you, this cake can be made without it as well but I would recommend it.
Now that we know a bit of nitty gritty of our Bundt cake, shall we get on with our beautiful cake recipe? Let's get started
Tips for Cream Cheese Frosting
My absolute favorite frosting, and it's so easy to make. But here are some tips to keep in mind. 
1. Softened Butter & Cream Cheese: Use only softened ingredients, you would need to whip up your cream cheese first and you won't get the correct result from cold Cream Cheese. You need to do the same when you make Cheesecakes as well. Same goes for butter, you would need to whip it. 
2. Use Icing Sugar: Don't substitute with Castor Sugar or Granulated Sugar. Both Caster & Granulated won't blend well with the Cream Cheese mix, even if you try for a long long time. 
3. Refrigerate the Frosting: Remember, temperature is key! A frosting which is soft and warm won't hold well on your cakes. Icings should be cold!
Equipment
Cup Measurers

Weighing Scale

Stand Mixer (Optional)

Whisk + Spatlula

oven

9-10 cup Bundt Pan

Blender
Ingredients
For Cake Batter
215

g

All Purpose Flour or Cake Flour

200

g

Caster Sugar

½

cup

Strawberry Puree

170

g

Unsalted Butter

softened

1

tsp

Baking Soda

1

tbsp

Baking Powder

1

drop

Pink Gel Food Colouring

1

tbsp

Bakers Corn Starch

3

Eggs

½

tsp

Vanilla Extract
For Cream Cheese Frosting
½

cup

1 cup Cream Cheese 

softened

¼

cup

Unsalted Butter 

softened

½

tsp

Vanilla Extract

½

cup

Icing Sugar

1

tbsp

Strawberry Puree
For Garnish
5

tbsp

Chopped strawberries

2

tbsp

Mint
Instructions
For the Cake Batter
Start by preheating your oven to 180°C. In a bowl using an Electric Hand Mixer or in a Stand Mixer using a Paddle Attachment, beat together, butter and sugar until light and fluffy. L

In the mixture, add the eggs one at a time, until they get fully combined before adding the next one. Wait for the first egg to be fully combined, before adding the second one and so on.

Next, add in the Pink Colouring, Vanilla Extract and Strawberry Puree. Keep mixing with spatula until well combined.

Next mix the dry ingredients (flour, baking soda, baking powder and cornstarch), mix well and sieve until fine. Fold the dry ingredients into the wet. Don't over-mix at this point, just until they are combined and you can't see any dry flour. Make sure you have combined the sides of your bowl or stand mixer. 

 Line your Bundt pan generously with vegetable oil and dry flour. Pour your cake batter into the prepared tin (9 or 10 cup). Bake for 45 minutes. Use a cake tester or a toothpick to check if it's done, by inserting it into the center of the cake. All ovens work differently so keep checking the cake from outside. 

Although, avoid opening the oven too much. But every oven is difference, please use per your experience with your oven. Cover if foil if you think it's browning too much and too fast!

Leave the cake to cool for 10-15 minutes before turning the cake out. Patience is important at this point. Until then, keep yourself busy with making the Cream Cheese Frosting.
For Icing
To make the cream cheese frosting, combine the softened Cream Cheese with the Butter and mix well, until fluffy. Next, add Vanilla Extract.

Once combined add in the strawberry puree and mix until combined. Finally, add in the Icing Sugar and mix well. Refrigerate until its time to use.
Final Assembly
Once the cake is ready, add in the icing using a spoon or a pourer of some sort, as done in the picture above.

Garnish the top with fresh strawberries and mint. Enjoy!
Someone once rightly said "a recipe has no soul, you must bring soul to the recipe", so here I am, trying to bring my passion for food into easy to make recipes from around the world.
My name is Sohail Nath and I welcome you to my happy place, @boy.eatsworld. 
This blog, my creativity's nest covers travel inspirations, authentic yet homemade recipe and food blogs.