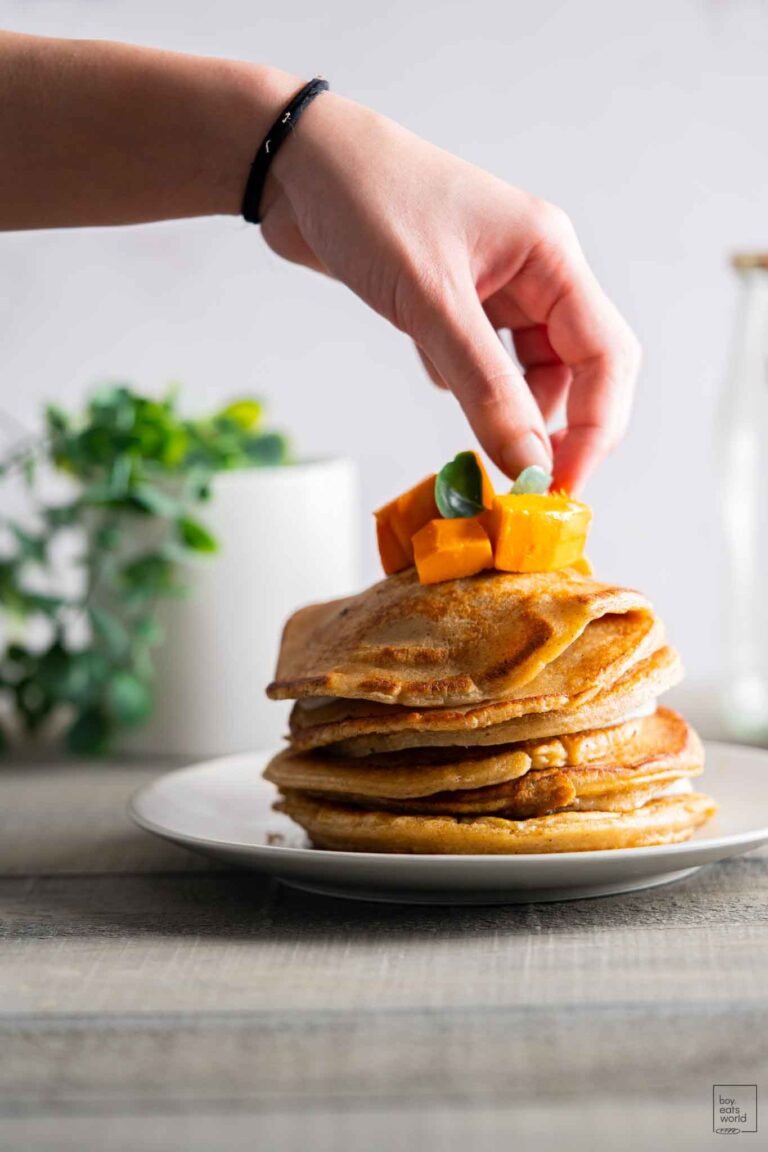 In movies, and soo many tv shows I have seen breakfast in beds happening with a stack of pancakes to celebrate something, or even to pamper your loved ones. 
I have always been a Pancake kind of a person from the start. Although, if I am being honest with you, I am still confused what is more important for me – crepes or pancakes! Both have their own charm!!! I won't deviate from the topic no more, this is a rendition of a Pancake with a twist – it is made using Greek Yogurt rather than milk and oil instead of butter, making the entire ensemble a tad bit healthier – packed with nutrition and protein!! 
Stack Of Pancakes
If you're looking to serve your pancakes as a stack, its important to highlight a couple of things. The pancakes should be somewhat thick – since they were made with oil and greek yogurt, the edges didn't curve as much as I wanted them to but they didn't affect the flavour a bit. 
To make a perfect stack of pancakes, it's important to make sure the pancakes are of similar sizes. To orchestrate the same, if you don't have a small pan, you can use the largest ring of a cookie cutters to achieve this. This will make sure your stack balances properly. 
Fruit Toppings
Pancakes are known to be one of the dynamic breakfast food out there, because they go with literally everything. 
The most common fruit used with Pancakes are Bananas! You'll find this literally everywhere you go. Apart from Bananas, you can use berries as well – Strawberries, Blueberries, Rasberries, Cranberries and Blackberries: the sweetness and sourness of all of these makes the pancake tastier. 
For this recipe, I have used Mango and Mint. It's May right now in India and sweetest alphonso's are available around us. I really couldn't resist using mangoes here. If you are a mango person, you should try too! 
Sweet Spreads
If you want to go a sweeter route than fruits or you want to accompany fruits with something sweeter (like I did), there are variety of possible combination you can indulge in. 
The most common one being Nutella – along with it's best pal Banana! Nutella is a favourite amongst the crowd and honestly it's one of my favourites too. 
Apart from the hazelnut spread, you can try making a compote as well be it blueberry and strawberry and I can guarantee you it would taste yum. 
Another alternative is Condensed Milk or Dulce De Leche and I can't begin to tell you: how good it would taste!! For this rendition, I have used classic Maple Syrup which is another crowd favourite to accompany the mangoes! 
Why Greek Yogurt?
If you are wondering and contemplating about the use of greek yogurt in the pancake, it is done to make the pancakes bit healthy, to pack them with nutrition and protein but also to make them filling and long lasting without creating any hindrance to its flavour. 
Yoghurt makes the pancake super thin, while the leavening agents make them fluffier. Its a good way to substitute bit of milk and butter from the recipe. 
Storing left-over Pancake Mix
It is ideal to store left-over Pancake Mix as a dry mix. To do the same, simply mix your dry ingredients together and keep together in an airtight container, use it with yogurt and other wet ingredients as and when required. It's better than store bought, just because there is no preservatives and you know what you are putting into it. 
If you have a batter left, you can store it in the fridge. Please take it out 30 minutes prior to use so it comes down to room temperature slowly. This would only be good for 24 hours. so make sure whatever you have leftover should be used up in 24 hours. 
Equipment
1 Skillet

Cookie Cutter largest size, if need be

Utensils

Bowl

Whisk
Ingredients
1½

cups

All Purpose Flour

5

tbsp

Caster Sugar

1½

tsp

Cornstarch

2

tsp

Baking Powder

½

cup

Greek Yogurt or Hung Curd

1½

tsp

Vanilla Extract

1

tsp

Salt

¾

cup

Whole Milk

2

Eggs

large

½

tsp

Cinnamon Powder

Unsalted Butter for Cooking
Instructions
Begin by mixing all the dry ingredients in a bowl - flour, caster sugar, baking powder, cornstarch, cinnamon powder, and salt together until combined.

In a second bowl, mix the other ingredients together using a whisk - milk, yogurt, eggs, and vanilla extract.

Add the dry ingredients into the wet ones just as you would with a cake, by folding them using a spatula. Mix it properly using a whisk until there are no visible lumps, don't overmix.

Take a pan over medium heat, you may use a cookie cutter to achieve a perfect round shape if need be. Add butter to the pan and as butter is melting, pour in the pancake mix onto the pan (usually a ladle worth is enough).

Cook the pancake on one side for 1 minute or until golden brown, after which flip again and cook for 45 seconds on other side to until golden brown.

Remove from the pan, and repeat the process again till you have 8 pancakes in hand or until the batter is wiped out completely.

You can top up with your pancakes or stack with variety of fruits and/or sweet spreads as written above. Make it your own! Have warm & fresh.
Someone once rightly said "a recipe has no soul, you must bring soul to the recipe", so here I am, trying to bring my passion for food into easy to make recipes from around the world.
My name is Sohail Nath and I welcome you to my happy place, @boy.eatsworld. 
This blog, my creativity's nest covers travel inspirations, authentic yet homemade recipe and food blogs.