My dog turned 3 this month (April, 22) and I just had to bake a cake for him!! It is not easy to work with doggo cakes because you have to be 100% sure about all the ingredients going in, and how they are going to react with this cake. 
Bueno, my pup is very picky when it comes to food and in the past, I have tried baking his cake with a pre-cake mix and have ordered once from an outside pup bakery as well. Both the times, he has refused to eat them. So I was extremely skeptical if my ingredients and "hard work" will go to waste or not! BUT IT DIDNT! He ate such a big slice and the way he burped after it. It was amazing ha ha! 
So if you are looking for a good & SAFE cake to make for your doggo on his/her birthday, I would suggest you to give this one a try!!! And I really hope he/her likes it 🙂 
To learn about the ingredients used in the cake, read below. 
Ingredients:
I love my pup, and I am sure you do yours too! So, we have to be really safe with the ingredients being used in the cake. Please take a look at the ingredients below, and see how they are not harmful for your doggo. 
1. Egg: A perfectly safe food for dog and are a great source of nutrition for your furry friend also. Eggs are an easy was to make the cake fluffy while also a bit filling. 
2. Peanut Butter: According to the American Kennel Club, peanut butter are safe for dogs, and you have nothing to be worried about. Just make sure the make or tin you purchase doesn't contain Xylitol. 
3. Cooking Oil: Vegetable Oil and Coconut Oil in moderate quantities are safe for dogs as well and is better than its substitute butter as it contains less fat.  
4. Honey: This sweetener has antioxidants which provides your canine with essential vitamin and minerals and provides relief from skin allergies and irritations. A cake would need some kind of sweetener though, right! 
5. Grated Carrot: Carrots make for a great snack for dogs as they are high in fibre and according to vets its safe to give carrots your dogs everyday! In the cake, they add more flavour and sweetness for your pups palette.
6. Whole Wheat Flour (Atta): Definitely a better substitute to All Purpose Flour, whole wheat is a great source of fibre to your pup as well and will give the cake the base it needs. 
7. Baking Soda: According to experts, small amounts of baking soda are considered harmless to be used around dogs, and are better than its counterpart Baking Powder. The recipe just uses half a teaspoon which is less than a pinch, so don't worry about it at all. 
Cake Mould
To make a tiny cake for my tiny pup, I used a 4inch Cake Mould! The size was just appropriate and nothing went to waste. Whatever didn't go into Boo's tummy, was distributed amongst street dogs outside my house. 
But if you think that the 4inch one might be too less for your pup and his friends, you can always try to double the entire recipe and make it into an 8 inch one as well. 
However, if you don't have a 4inch one , click here for its amazon link!
Treats Used & Peanut Butter Icing
The peanut butter icing is definitely pet-friendly and was made using just Peanut Butter and Coconut Oil. That's it! And it's a delish (at least that's what I got out of boo's reaction). He particularly liked the icing and inside of the cake more. Kinda refused to eat the edges! Haha
The treats used all around the cake are Gnawlers Calcium Milk Bones – Small Sizes. You can buy it here from
this link.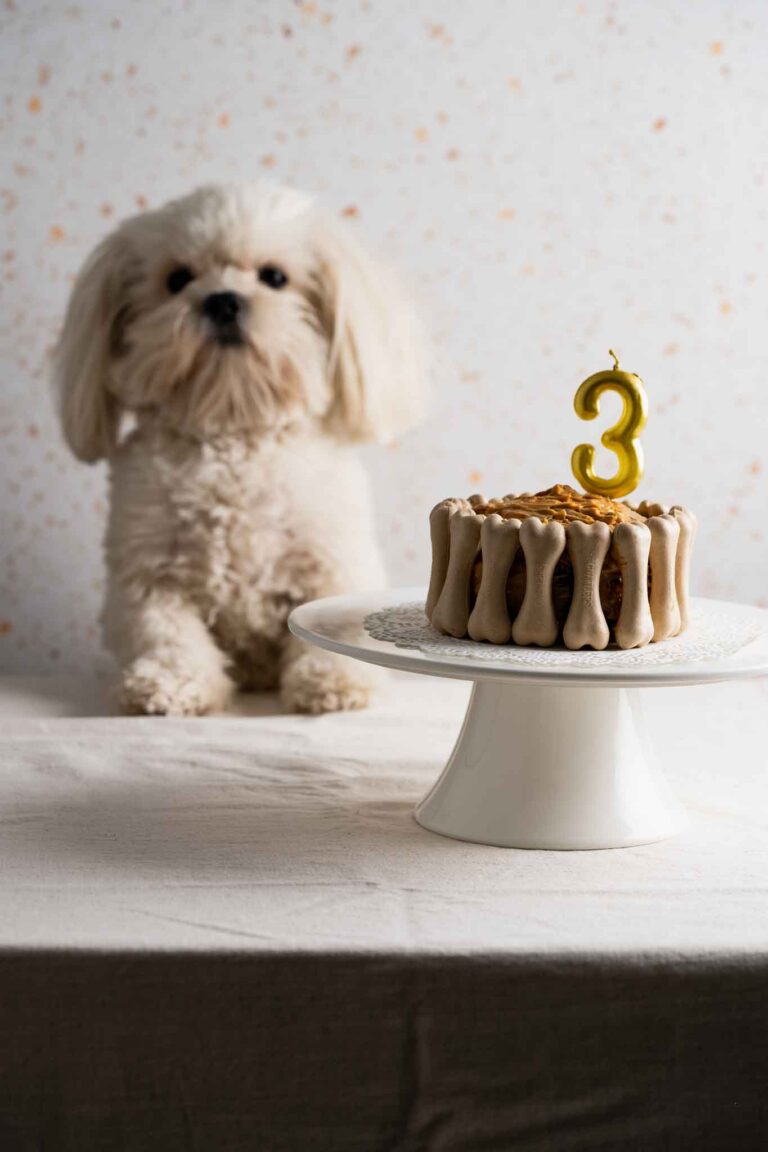 Equipment
1 4 inch Cake Mould

Spatula

oven

Cup Measurers

Whisker's
Ingredients
For Cake Batter
1

Egg

2

tbsp

Peanut Butter

2

tbsp

Cooking Oil

1½

tbsp

Honey

⅓

cup

Grated or Chopped Carrots

½

cup

Whole Wheat Flour

½

tsp

Baking Soda
For Icing and Topping
2

tbsp

Peanut Butter

1

tsp

Coconut Oil

12-16

Calcium Bones
Instructions
Begin by preheating the oven to 175°C or 350°F. Line the 4inch cake pan with vegetable oil using a brush.

Next, combine Eggs along with Honey, Peanut Butter, and Oil using a whisk. Mix well until fully incorporated. Add in the carrots and mix until combined using a spatula.

Mix your dry ingredients together- whole wheat flour and baking soda as well. Fold the dry ingredients to the wet using a Spatula. Be sure to not over-mix at this point.

Put the Cake Batter onto the pre-lined pan and put in the oven for 15-20 minutes. Use a cake tester to see if its done or not. Let it cool down until putting the icing on.

To make the icing, simply mix together the Peanut Butter and Coconut Oil. Using a piping bag or a pallet knife, decorate the cake with the icing.

Finally, erect the calcium bones around the cake and serve to your pup with a candle on it.
Closing Note
Wishing your dog a very Happy Birthday from mine & boo's side. 
Someone once rightly said "a recipe has no soul, you must bring soul to the recipe", so here I am, trying to bring my passion for food into easy to make recipes from around the world.
My name is Sohail Nath and I welcome you to my happy place, @boy.eatsworld. 
This blog, my creativity's nest covers travel inspirations, authentic yet homemade recipe and food blogs.