I love Christmas – from festive movies to carols to some hot chocolate and desserts. Christmas cookies are my favourite and it's always good to have them slightly imperfect or in my case like these. I swear to god the one on the right reminds me of the clown from the movie – IT! LMAO! 
However, don't judge this beautiful and fail-proof recipe by my artistic skills and my not so friendly-oven. Let's get you started with the basics, which can be followed by the recipe to these delicious red velvet cookies – whether deformed or not. 
What is Red Velvet
To be honest with you, it's literally a chocolate cake, with lesser content of Cocoa Powder and lots of added red color. While the base of the cake is a slightly sweeter and not-cocoa bitter version of Chocolate Cake, it's the the Cream Cheese frosting which does the trick. 
However, similar to chocolate it is – it's more or less a version in between vanilla and chocolate and boy, it's one of my favourite flavours to eat. If you like red velvet, click here for the cupcake recipe which will not leave you disapointed either. 
World of Cookies
I absolutely love cookies. I think they are easier to prepare than cakes. They last longer – ranging from 10 days to almost two weeks if stored in correct conditions. Longevity meets versatility is the perfect way to describe cookies. As I wrote my love for cookies before, this blog has few cookie recipes which you would enjoy making as well. 
Here are some more cookie recipes from the blog for you: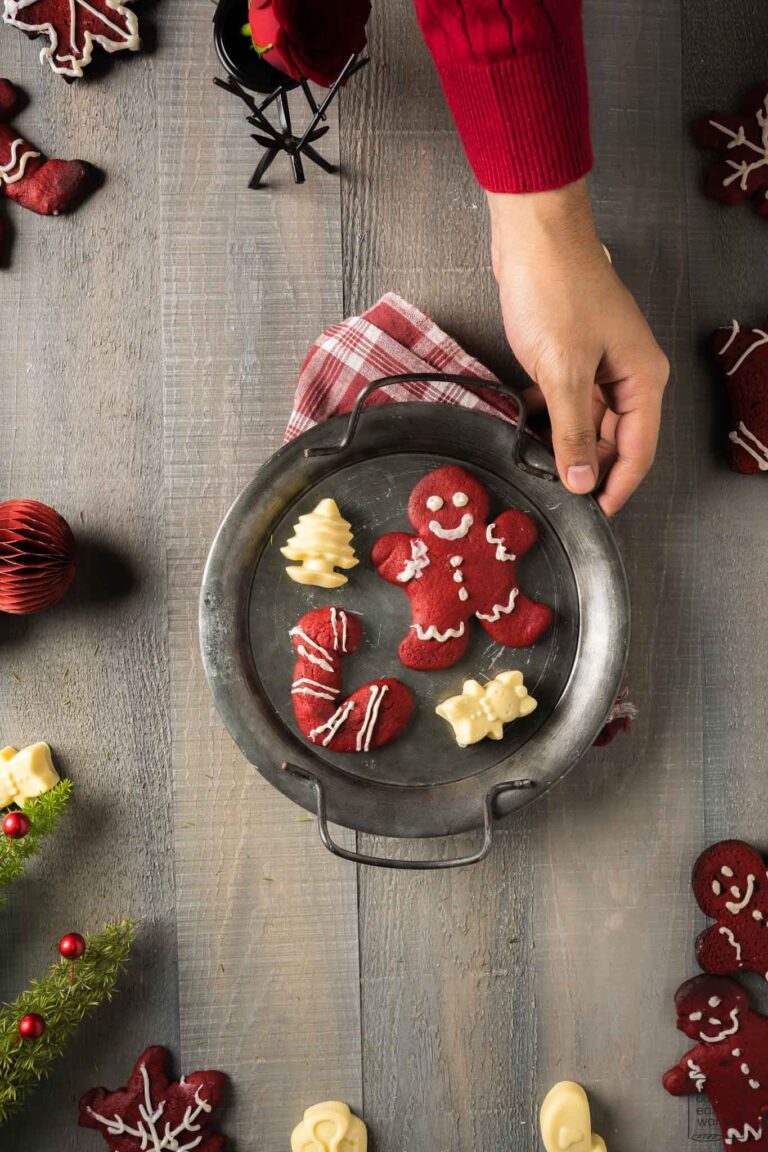 Yield & Storage
This recipe would give you 16-20 cookies, depending upon the size of cookie mould you use. If you are looking for double the amount cookies, multiply the entire recipe by 2. 
A good thing about this recipe and cookies in general is their Shelf Life. These cookies if stored in airtight container or ziplock bags would last you for at least 10 days to come. The amount of Cream Cheese is quite less for you to refrigerate these cookies and won't get spoiled. 
Understanding ButterMilk
You sure can use Regular Milk but I wouldn't recommend that. The acidic ingredient will help in tenderize the gluten, giving a softer texture to the cookie and more body. In other words, just do it! If you have don't have vinegar at home, substitute the amount of vinegar with equal amounts of Lemon Juice. 
The cookies would be gooey from the middle and will give it that extra life. To understand how to make buttermilk, read below. 
Tips to make the BEST Cream Cheese Frosting

My absolute favorite frosting, and it's so easy to make. But here are some tips to keep in mind. 
1. Softened Butter & Cream Cheese: 




Use only softened ingredients, you would need to whip up your cream cheese first and you won't get the correct result from cold Cream Cheese. You need to do the same when you make Cheesecakes as well. Same goes for butter, you would need to whip it.




 2. Room Temperature Cream Cheese: 




Temperature matters in baking! It matters even for eggs but it matters more for cream to get the desired lush texture of the frosting. 



3. Use Icing Sugar: 




Don't substitute with Castor Sugar or Granulated Sugar. Both Caster & Granulated won't blend well with the Cream Cheese mix, even if you try for a long long time. 



4. Refrigerate the Frosting: 
Remember, temperature is key! A frosting which is soft and warm won't hold well on your cupcakes. Icings should be cold! 
Equipment
oven

Stand Mixer (Optional)

Measuring Cups & Spoons

Weighing Scale (Optional)
Ingredients
For Red Velvet Dough
½

cup

or 115 g Unsalted Butter

¾

cup

Caster Sugar

1

tbsp

Red Food Colouring

1½

tsp

Vanilla Extract

3

tbsp

Unsweetened Cocoa Powder

½

tsp

Baking Soda

½

tsp

Sea Salt

2

tbsp

Buttermilk

more about it above

1

Large Egg

1¾

cup

or 207g All Purpose Flour
For Cream Cheese Frosting
¼

cup

Cream Cheese

(softened)

⅛

cup

Butter  

(softened)

¼

cup

Vanilla Extract

¼

cup

 Icing Sugar
Instructions
Begin by, adding 1 tsp Vinegar to 2 tbsp Milk and set aside. This will give you buttermilk.

Next, start creaming the butter and sugar. In a bowl, using an electric whisk or using a stand mixer - beat together sugar and butter for 3 minutes. It should be light and fluffy and full incorporated.

After which, add in the egg and whisk till properly mixed. Add 1 tbsp of Red Color with Vanilla Extract. You are looking for a deep red, almost maroon-ish color over here. If you feel the red is bit stark, add in drop by drop till you reach color of your choice.

Combine Flour, Cocoa Powder, Salt and Baking Soda in a bowl separately and slowly fold in the dry to the wet and mix until combined. Be sure to scrape all the sides of the bowl.

Next, add in 2 tbsp of the milk and combine. Cling wrap the dough tightly and put in the fridge to set. You can work with it after an hour, but leave it for longer for better results. I left mine for 3 hours but you may leave it overnight as well.

Preheat the oven to 180°C and line a Baking Tray with cookie sheet or alternatively, parchment paper.

Flatten the dough using a rolling pin until ¾ inch thick roughly. Use your cookie cutters for desired shape and place them on the baking tray. Cook the cookies in batches for 10-15 minutes. Tent your cookies if they began to grow darker to retain the colours.
Someone once rightly said "a recipe has no soul, you must bring soul to the recipe", so here I am, trying to bring my passion for food into easy to make recipes from around the world.
My name is Sohail Nath and I welcome you to my happy place, @boy.eatsworld. 
This blog, my creativity's nest covers travel inspirations, authentic yet homemade recipe and food blogs.