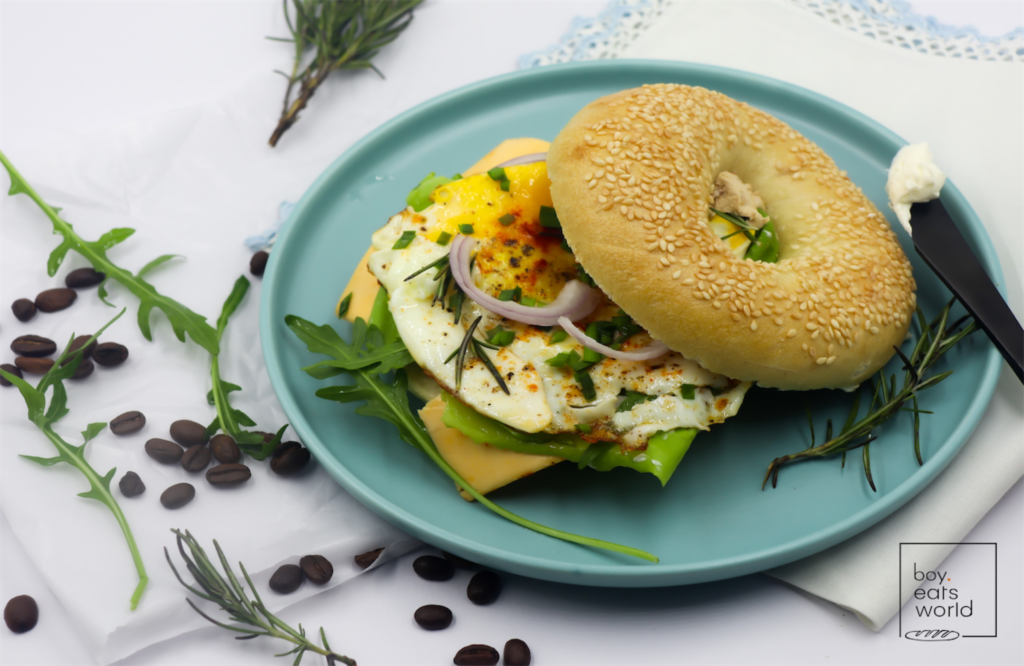 It's really not just a sandwich. It's your fuel for the entire day! Everybody says, breakfast is the most important meal of the day, so let's do it right. Here's an easy recipe, to show you how you can construct a bagel at home, which will provide a bright start to your day.
If you want to go a step further, and make fresh homemade bagel thins, here's the link:
https://boyeatsworld.in/recipes/breads/homemade-bagel-thins/
Let's get started!
Ingredients
1

pc

Bagel

1

Cream Cheese as a spread, as much as you want

1

Egg

(fried egg)

Few Raw Onions (Julienne Cut)

Few Arugula Leaves

1

Cheese Slice

Few Butter Head Lettuce Leaves

2-3

Avocado Slices

1

tbsp

Sriracha Mayo
Instructions
Take a bagel and cut it evenly into 2 halves. Toast it and generously spread cream cheese on both sides.

Add some butter head lettuce, as a layer of fresh crunchy leaves.

Top it up with Raw Onions & Avocado Slices

Add Fried Egg- you can either add Sunny Side Up or Double Side Fried. Add some cheese (you can also add on top your egg while its frying)

Drizzle it up with Sriracha Mayo and top it up with some fresh Arugula. Serve hot & fresh.
Closing Note
Now, that's a bagel! Enjoy your breakfast with a coffee and a king-sized bagel. Top up your meal with a Scone!
More like This: