The OG-iest pasta and probably the first one you had tried as a kid, unless it was White Sauce Pasta. This is Penne Arrabiata, also known as Red Sauce Pasta. 
I know what you are thinking? Another arrabbiata/red sauce recipe, how can it be different from everything that's already out there ?! I personally love flavours and to make my pasta the most flavourful, I have slow cooked butter and oil with seasonings, herbs and garlic. The secret is in the first 5 minutes of the recipe, lets take a look at it before. 
Arrabbiata Sauce
The famous red sauce is somewhat spicy although full of flavours. The base of this sauce is a mix of Garlic, Onions & Tomatoes just like the Marinara Sauce. 
The base of this sauce is mixed with Herbs, Wine & Seasonings to give this sauce that flavour and texture which it needs. This sauce originates from the Lazio region of Italy, particularly the city of Rome. 
Deglazing the Pan
As last mentioned about the purpose of Wine in this sauce,  is to help in deglazing the flavours. When you're cooking garlic and onions in a skillet along with herbs and peppers, a lot of flavours of it get left on the bottom of the pan. 


Adding alcohol, like wine can help deglaze the skillet, thereby retaining any flavours which would have been left behind in the pan, to enhance the taste.
Pasta Water – Why is it so important ?
Unlike regular hot water, pasta water has starch and is salty. Although, a bit unhealthy – the pasta water can help in making the sauce smooth with enhanced flavors. Some experts argue that this murky water is key to any successful Italian sauce. Depending on the quantity of the sauce, usually a quarter of a cup worth is enough to add to your dish during the final minutes of mixing it right before or during putting your desired pasta in.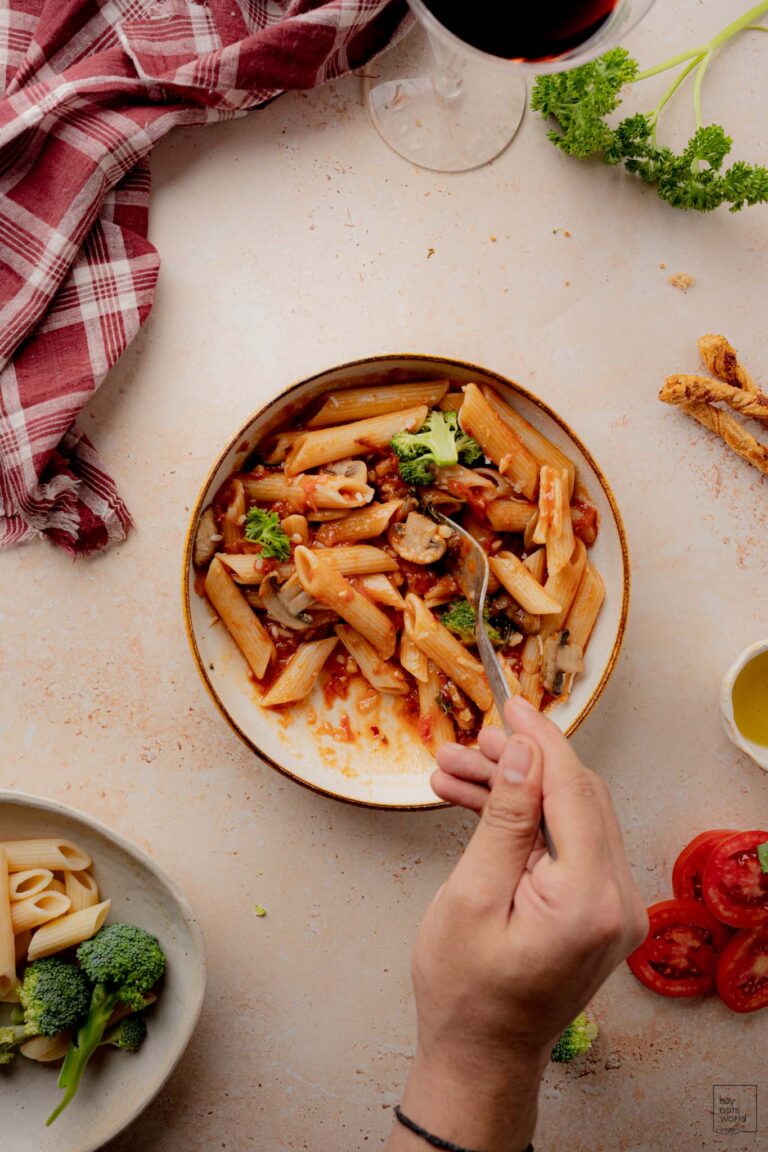 Pasta x @boy.eatsworld
Over the past year, I have really brought in my culinary experience from my past adventures in Italy. My 6 weeks in Rome accustomed me to familiarize myself with Italian Cuisine and it's flavours. This sauce originated from my 6 week hometown, has been made with a lot of love and nostalgia. This blog does have more types of Pastas and Sauces in it. Here are some links for your ever-hungry taste buds. 
1. Homemade Gnocchi In Tomato Sauce
4. Spaghetti Prawns Aglio Olio
What kind of Pasta's go well with the Sauce?
Typically, vodka sauce is prepared with smaller less noodly pastas like Penne & Rigatoni (like this). Another great pasta which would pair brilliantly with this sauce would be Farfalle (also known as the Butterfly Pasta) 
If you are struggling to find any of these or have none of these at home, I have tried this recipe with Spaghetti as well and boy, it tastes good! 
What kind of Tomatoes to Use?
We are looking for deep red San Maranzo tomatoes, giving this sweet rich flavor. So where I live, I use canned tomatoes. It's completely acceptable to use Canned Tomatoes, there's no need to add additional tomato purée or paste to it as well. I get mine from Amazon, it's called the Dolce Vita Pomodori Pelati Tomatoes and here's the link to it. 
https://www.amazon.in/gp/product/B079VVGTSF/ref=ppx_yo_dt_b_asin_title_o06_s00?ie=UTF8&psc=1


Accompaniments! What can I have with it?

Like the sauces, I love Italian Breads. From garlic knots to baguettes, I feel these breads are a must-have when you are eating the pasta, just like Wine. While we are on the topic of Wine, white or rose would pair the best with this one. 




Swinging back to Breads and Accompaniments, start clicking on the link(S) below! 



1. Italian Bread Baguette

2. fresh garlic knots

Equipment
2 Skillet

Cup Measurers

Utensils
Ingredients
2

tbsp

Salted Butter

2

tbsp

Olive Oil

6

cloves

Garlic

crushed

½

Dried Red Chilli or ½ tsp Red Chilli Flakes

lesser if you want less spicy

1

tbsp

Oregano

200

g

or 1/2 can San Maranzo Tomatoes

linked above

3-5

Fresh Basil

¼

cup

Chopped Parsley

⅕

cup

Button Mushrooms

¼

cup

Broccolli

30

ml

White or Red Wine

1

tsp

Brown Sugar

2

cups

Penne
Instructions
Take a Big Vessel or Sauce Pan and fill it with Hot Water and put it on High Heat. After a few minutes, let it come to a boil and add a tablespoon of Salt and Olive Oil. Once the water is boiling, add your choice of Pasta and let it cook for around 7-10 minutes or until al-dente

Al Dente? Is when your Pasta is cooked to-the-tooth. It's both firm and chewy. Take out a piece using a fork and try it! When the Rigatoni (or any other pasta you're using) is cooked, do not drain the water entirely.

Start by taking a skillet on low heat. Add in Olive Oil (1 tbsp) and Butter. Let the butter completely melt.

Next, add in Garlic, Oregano and Red Chilli (flakes) and let it simmer for 3 minutes. Mix well at this point. Next, add in the onions and basil. Cover the pan and let it cook for 5 minutes or until onions are cooked.

Add in wine and mix well. In a separate bowl, crush your tomatoes until fine. Add in the tomatoes to the pan and mix well. Cover the pan and let it cook for 10 minutes.

Take a separate skillet over medium heat, add in olive oil with a pinch of salt. Add mushrooms and broccoli and cook until 80% done.

Coming back to the tomato pan, add in brown sugar and parsley and let it cook for 5 minutes on low to medium heat. You can do your taste check at this time and add in seasonings as required. Don't add too much salt as pasta water would have it as well.

Throw in the sautéed veggies into the sauce, followed by magical Pasta Water and mix well. Add in your pasta and mix just until combined. Enjoy hot with some wine, friends and/or family!
Someone once rightly said "a recipe has no soul, you must bring soul to the recipe", so here I am, trying to bring my passion for food into easy to make recipes from around the world.
My name is Sohail Nath and I welcome you to my happy place, @boy.eatsworld. 
This blog, my creativity's nest covers travel inspirations, authentic yet homemade recipe and food blogs.