Back when we (me and my friends) were in school, we used to love fighting over Penne Vodka at a cafe in our city. Still unsure if it was the fork-fights to grab that last Penne or just our love for this tangy Vodka sauce. Similar to your classic Marinara or Arrabiata, this sauce is a tomato based one. Although, it carries additional flavors of , Vodka and Cream, adding texture, flavor and color to this beautiful and palatable sauce. If you're unfamiliar with Vodka sauce, start reading below.  
Vodka Sauce
The orange colored sauce is somewhat a tangy one. The base of this sauce is a mix of Garlic, Onions & Tomatoes just like the Marinara Sauce. Traditionally speaking, this is not something you'll find in the menus when visiting Italy or when going to authentic Italian Restaurants in your city. 
There's still some confusion as to how this was originated but the strongest claim to this sauce is held by Americans, saying it was curated in New York by an Italian-American chef. Thus, you will find this sauce in cafes and diners nearer to your home. 
The base of this sauce is mixed with Herbs, Vodka and Cream to give this sauce that flavor and texture which it needs. If you're thinking what the 15 year old me was thinking, the vodka in this sauce will not make you drunk as the alcohol in the liquid has been cooked off. So it's kid-friendly, no need to hesitate! The vodka here has dual purpose, read below to find out more about it.  
Deglazing the Pan
As last mentioned about the purpose of Vodka in the sauce, while it adds to the smokiness and the texture in the sauce, it actually helps in deglazing the flavors. When you're cooking garlic and onions in a skillet, a lot of flavors of it get left on the bottom of the pan. 
Adding alcohol, like wine (for marinara) and vodka can help deglaze the skillet, thereby retaining any flavors on it to enhance the taste.
Pasta Water – Why is it so important ?
Unlike regular hot water, pasta water has starch and is salty. Although, a bit unhealthy – the pasta water can help in making the sauce smooth with enhanced flavors. Some experts argue that this murky water is key to any successful Italian sauce. Depending on the quantity of the sauce, usually a quarter of a cup worth is enough.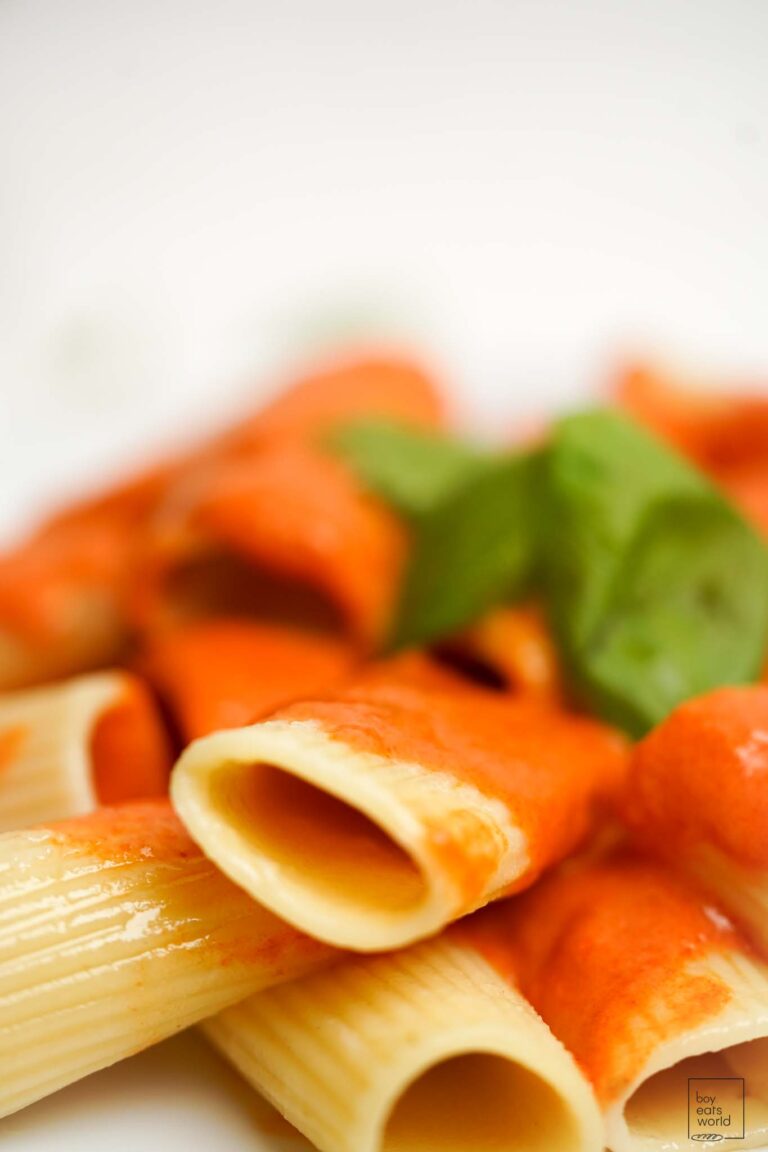 Pasta x @boy.eatsworld
Over the past year, I have really brought in my culinary experience from my past adventures in Italy. My 6 weeks in Rome accustomed me to familiarize myself with Italian Cuisine and it's flavors. Although, vodka sauce isn't the most authentic sauce, this blog does have more types of Pastas and Sauces in it. Here are some links for your ever-hungry taste buds.
1. Homemade Gnocchi In Tomato Sauce
4. Spaghetti Prawns Aglio Olio
What kind of Pasta's go well with the Sauce?
Typically, vodka sauce is prepared with smaller less noodly pastas like Penne & Rigatoni (like this). Another great pasta which would pair brilliantly with this sauce would be Farfalle (also known as the Butterfly Pasta)
If you are struggling to find any of these or have none of these at home, I have tried this recipe with Linguine and boy, it tastes good!
What kind of Tomatoes to Use?
We are looking for deep red San Maranzo tomatoes, giving this sweet rich flavor. So where I live, I use canned tomatoes. It's completely acceptable to use Canned Tomatoes, there's no need to add additional tomato purée or paste to it as well. I get mine from Amazon, it's called the Dolce Vita Pomodori Pelati Tomatoes and here's the link to it.
https://www.amazon.in/gp/product/B079VVGTSF/ref=ppx_yo_dt_b_asin_title_o06_s00?ie=UTF8&psc=1
Accompaniments! What can I have with it?

Like the sauces, I love Italian Breads. From garlic dough balls to baguettes, I feel these breads are a must-have when you are eating the pasta, just like Wine. While we are on the topic of Wine, white or rose would pair the best with this one.




Swinging back to Breads and Accompaniments, start clicking on the link(S) below!



1. Italian Bread Baguette

2. garlic dough balls with herbed butter

Ingredients
200

g

Tomatoes, Blanched, de-skinned and chopped/ canned pelati tomatoes.

5

g

Oregano (approx. 1tsp)

15

g

Celery, finely chopped (approx. 1tsp)

10

g

Garlic, finely chopped (approx. 4tsp)

40

g

Leeks or Onions, finely chopped (approx. 1 small stem of leek)

15

ml

Olive oil (approx. 1 tbsp)

Salt – to taste

Crushed black pepper- to taste

5

g

Sugar (approx. 1tsp)

30

g

Butter (approx. 2tbsp)

45

ml

Vodka (approx. 3tbsp)

50

ml

Fresh Cream

¼

cup

Pasta Water

4

quartz

Boiling Water

1

tsp

Olive Oil

1

tbsp

Salt

Pasta as Required
Instructions
Take a Big Vessel or Sauce Pan and fill it with Hot Water and put it on High Heat. After a few minutes, let it come to a boil and add a tablespoon of Salt and Olive Oil. Once the water is boiling, add your choice of Pasta and let it cook for around 7-10 minutes or until al-dente

Al Dente? Is when your Pasta is cooked to-the-tooth. It's both firm and chewy. Take out a piece using a fork and try it! When the Rigatoni (or any other pasta you're using) is cooked, do not drain the water entirely.

Heat olive oil and butter in a pan. Add garlic and oregano and cook till it is translucent.

Add celery and leek (or onions) and cook till they are soft. Add 15ml vodka to deglaze the pan and reserve rest for the end.

Add the canned Pelati tomatoes after crushing them. Throw in a Garlic Clove also. Add salt, sugar and pepper and cook for about 30 minutes on medium heat covered.

When cooked, remove the garlic clove. Add the remaining Vodka & then Fresh Cream.

Give it a thorough mix. Add the Pasta Water and mix well. Next, add your preferred pasta, make sure it blends with the sauce. Give it a couple of minutes.

And, you're done!
Someone once rightly said "a recipe has no soul, you must bring soul to the recipe", so here I am, trying to bring my passion for food into easy to make recipes from around the world.
My name is Sohail Nath and I welcome you to my happy place, @boy.eatsworld. 
This blog, my creativity's nest covers travel inspirations, authentic yet homemade recipe and food blogs.