A healthy and easy to snack, goes excellent with Mexican Food, and pairs well with Margaritas! These Sriracha Chicken Tacos are made with shredded chicken, sour cream, sriracha and veggies. Although the recipe has been curated for fitness-enthusiasts who enjoys food, you may also add shredded cheese to these tacos. A hearty snack, these tacos can be both served as appetizers or at the end of the night – to make for a healthy meal. Let's get started with the basics for this dish before we move onto the recipe bit. 
Soft Shell Taco Hack
These tacos were made using a Soft Shell Taco also known as tortilla wraps! You can make these tacos using Hard Shell Tacos as well. However, since the hard shell tacos are marginally bigger, I would recommend increasing the quantities of the fillings. 
Now, if you don't get Taco Wraps in your grocery store, here's what you can do. Just get basic tortilla wraps – they are available across almost all stores now and use a 6 inch cookie cutter to cut them to taco sized wraps. 
Yes I hate it! Cause where did the sustainability go? I haven't figured out on how you can use the exterior part of these wraps. Since, these wraps are not all purpose flour, and are corn tortilla so I fed them to my street doggos outside with some boiled chicken. If you figure out a more sustainable approach, please let me know as well. 
However, if you don't get any tortilla wraps in grocery stores, try using amazon OR make them! Although I know, the probability of latter happening is extremely slim but I have tried it and it's not hard. Although, I don't have a recipe for the same on the blog yet. 
Shredded Chicken 
The easiest way to use Shredded Chicken is by boiling the chicken and shredding it into pieces. You can boil the chicken in a smaller pressure cooker till done. Once boiled, simply let it cool and shred it into long thick and thin messy pieces. 
You may also put the chicken in the oven and cook it there, kind of like a rotisserie chicken, shred and use it like that. Both the options are equally super healthy and can be used with boiling the chicken being the easier one.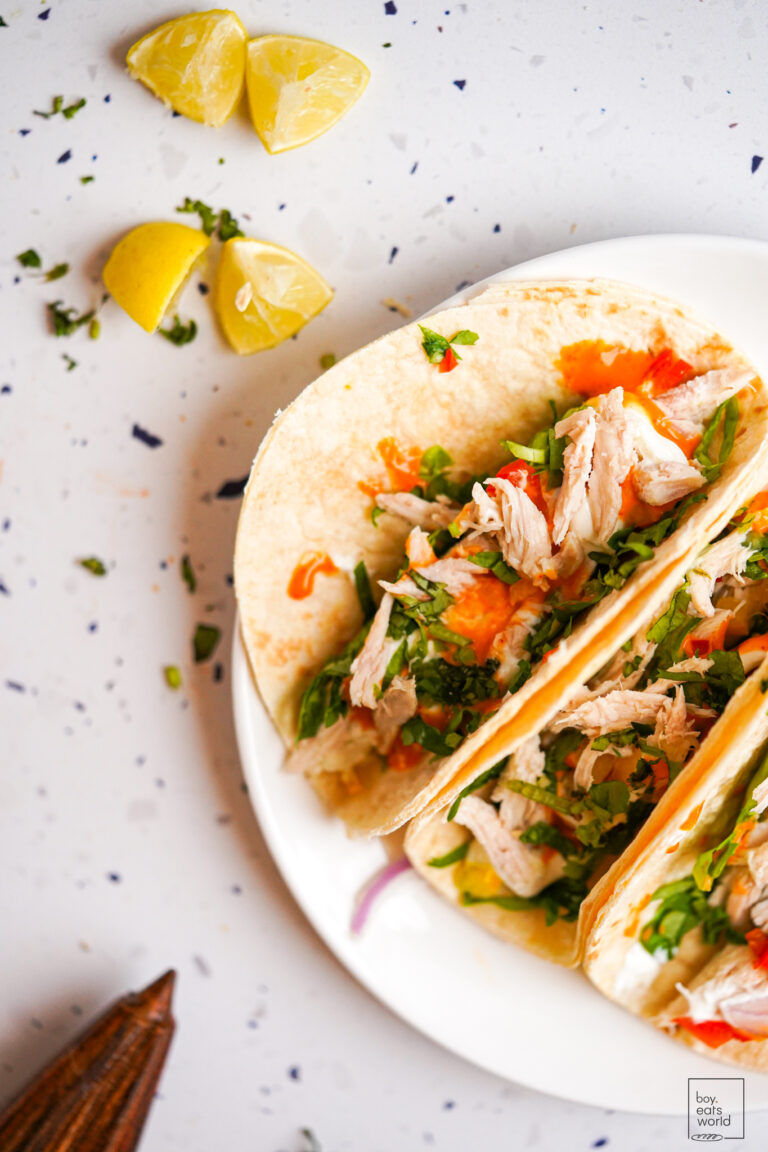 Sour Cream
A very important component to the construction of this taco is sour cream. The balancing condiment, a chilled dip which neutralizes the spiced up flavors of Mexican food, marination and dips.
A very easy to make dip which is always to fun to eat with some Spicy Nachos. You can also have Sour Cream with Fajitas, Quesadillas, Enchiladas on top of my head. This is one of my favorite Mexican Sides. To make sour cream at home
click here.
What Veggies have been Used?
For this recipe, I have used bell peppers – red, yellow & green. You necessarily don't have to use all, just any of these 3 would do. I have also used shredded lettuce, onions and cilantro (coriander) in it as well.
Ballparking the Ingredients
The recipe, has ingredients mentioned for 4 tacos as a whole. However, this is completely upto you and is your chance to become a recipe rebel. If you want more sour cream, add whatever you want to. If you hate bell peppers, just cut them off! Heavy on protein? Double the chicken!! This is not Subway, nobody is gonna charge you extra. Do whatever you want to do to make this recipe and this taco centered around YOUR TASTE BUDS!
Ingredients
4

Tortilla Wraps

150-200

g

Shredded Boiled or Rotisserie Chicken

4

tbsp

Sriracha

1

Lime

1

cup

Sour Cream

linked above

⅓

cup

Bell Peppers (Yellow, Red & Green)

julienne cut

¼

cup

Onions

julienne cut

¼

cup

Chopped Coriander OR Cilantro

⅛

cup

Shredded Cheese

¼

cup

Shredded Lettuce
Instructions
Start by heating up Tortilla Wraps. If you're using Hard Shell, heat them up using the instructions on the box. If you're using Soft Shell, you may heat it up on a Skillet or you have the option to use it like it.

Add Sour Cream to the Tacos as a Base Layer generously, followed by Shredded Lettuce and Bell Peppers.

Next, add the Shredded Chicken, followed by onions. Drizzle a bit of lemon juice as well.

Next, trickle sriracha, Finally, add chopped coriander and cheese. Eat Fresh!
Someone once rightly said "a recipe has no soul, you must bring soul to the recipe", so here I am, trying to bring my passion for food into easy to make recipes from around the world.
My name is Sohail Nath and I welcome you to my happy place, @boy.eatsworld. 
This blog, my creativity's nest covers travel inspirations, authentic yet homemade recipe and food blogs.